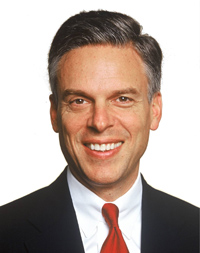 Actually, the word is he's going to be named ambassador to China, but I consider it the same thing as exile since Huntsman has been a name thrown around for 2012.
From
CNN
:
President Obama has selected Republican Utah Gov. Jon Huntsman Jr. to be his ambassador to China, sources tell CNN.

An official announcement is expected soon.

Huntsman, who speaks Mandarin Chinese and has adopted a daughter from China, had been tipped as a potential rival to Obama in the 2012 presidential election.

Huntsman, 49, is a former deputy U.S. trade representative and ambassador to Singapore. A Mormon, he did missionary work in Taiwan, the Salt Lake Tribune reported.

David Plouffe, Obama's 2008 campaign manager, described Huntsman as "the one person in that (Republican) party who might be a potential presidential candidate," U.S. News and World Report reported earlier in May.
I didn't know much about Gov. Huntsman when I moved to Utah, but I read up on him during the 2008 election cycle. He's for market-based solutions to health care and a more moderate (read: less socially conservative, but not extremist liberal) social policy. Also, despite the economy's downturn Utah has done well under his watch.
Some people call Huntsman a moderate (usually liberals who want another John McCain), but Huntsman is a conservative. His stances should be taken up by the GOP in my opinion.
But, I honestly can't think of why Obama would pick him for any other reason than to get him out of the country and out of the spotlight. Plouffe said it himself, the guy is a threat. And I have no idea why Gov. Huntsman would take the position. He's a very popular leader in Utah and a rising star in the GOP. It's like being promoted to dog catcher after just being elected mayor.
I dare say this may be the worst decision of Jon Huntsman's career, if it's true.
UPDATE
: Liberal blog
All Spin Zone
calls me sane. Horray. Though some posters at the
TigerDroppings
seem to take me way out of context. Apparently, the only saw the parts that make this a "hack job". So, I'll clarify.
Jon Huntsman is
very
qualified to be ambassador to China. His decades of experience in the Far East is top notch.
BUT
, as I said before, he is a popular name for the 2012 and to take this job
will not help that
. I want this guy to be president!
As for the reason why Obama picked him. Our President is a very, very smart politician. He got the Democratic nomination by being far left. He got the presidency by being centrist. That's pretty hard to do in an age when every word you make in public is recorded and played 24-hours a day. I give Mr. Obama props on that. Alas, you don't survive Chicago politics by allowing your potential enemies to gain momentum. It's logical for Obama to give this position to Gov. Hunstman in that Huntsman is qualified and that it gets him out of the way.
But, as MStreetTiger says on TigerDroppings:
"Perhaps he's doing what most interests him. Perhaps strange in this day and age, but still admirable."
I agree. I may not like that Huntsman could be taking the China post, but it's an admirable thing for him to accept a duty given to him by our President. No matter which party you're in, that should always been an honor.
UPDATE II:
Ramesh Ponnuru
on Huntsman:
I've now read a few articles and blog posts either lauding the Utah governor as a moderate or denouncing him as same. Huntsman has signed pro-life bills, voucher bills, and tax cuts. Yes, he is open to some kind of civil union for gay couples and wants Republicans to make more of an effort on environmental issues. But if that's all it takes for a Republican politician to get an image both inside and outside the party as a "moderate" these days, that's a pretty good thing, isn't it?